Our Town is in Full Bloom!

Take the Tours!
Welcome spring in Camden, Arkansas, and see millions of daffodils spreading over many acres of daffodil gardens. See our McCollum-Chidester house museum, winding river, and antebellum homes, all lovingly restored. Walk in our historic Oakland cemetery with costumed actors enchanting you with the real stories of early settlers who rest there. Festival Shuttles will provide transportation to the Gardens, Homes tours, and Cemetery Walk. Other events at our Festival include a Championship Steak Cook-Off March 10th and an Antique Car Show and Bike Show. Limited parking is available at the various sites, so participants are strongly encouraged to use the festival shuttle service. We hope to see you this year at the Camden Daffodil Festival!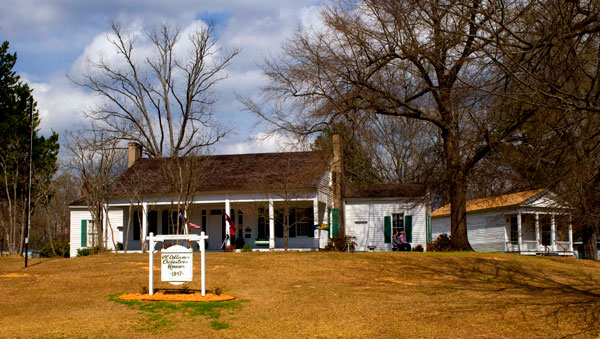 When you tour our museums and homes, costumed performers will weave their stories, and you might get lucky and see the ghost!
Begin your adventure in the Great Hall of the First United Methodist Church smack in the middle of town with the Festival banners flying! Inside, coffee and home baked refreshments are offered by smiling volunteers who show you where to buy the various tickets you'll need. It's all located in a room that also will be displaying our Quilt Show/Sale, Art Show/Sale and Daffodil Boutique.
So Much to Do!
Outside, lining our streets, you can view our wonderful murals covering our colorful history. There will be food and craft vendors, live music, and children's activities which include activities that will excite all from the toddler to the teen!
Getting hungry? We have a variety of food offered all over town, or . . . Dine With the Daffodils at Grace Hill, where you can relax and enjoy a home cooked lunch 'al fresca' both days of the festival.
All Weekend Long
Stay the whole weekend and enjoy a great variety of family oriented, reasonably priced entertainment. On Saturday, participate in the 5K Run/Walk and later, back in town, enjoy more music, arts/crafts, sightseeing, or just walk around and look at the Civil War Reenactors on the grounds surrounding the McCollum Chidester house, where they are cooking, firing their cannons and giving a lesson in living history!
World Championship Steak Cook-off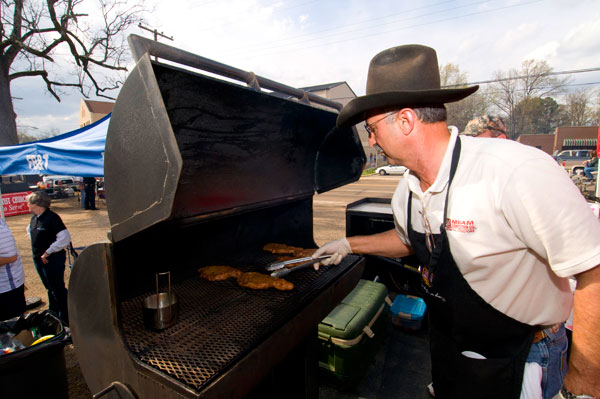 Then, Saturday evening stay around for the Annual Steak Cook-Off. Eat well and enjoy the music, dance in the streets and enjoy our community.
We hope you will come and bring cameras, casual clothing, happy hearts, and your dancing shoes! Our festival was founded by local citizens and gardeners who wanted to share our charm and raise money for the Ouachita County Historical Society. We have emergency vehicles on hand and lots of security so come visit us, relax, have a good time knowing your money goes for a good cause.
Click here to find out more.
Hospitality Is Everywhere
The Daffodil Festival is an annual event where a generous and cordial hello is extended to thousands of guests as they come to enjoy the place we call home.
Festival volunteers are on hand to throw open the garden gates where millions of daffodils are on parade.
Historical landmarks and homes beckon as their history is shared.
Local musical talent can be heard throughout the streets of the Festival.
The citizens of the Camden area are gearing up---cleaning up and wearing their broadest smiles of friendship.